:

Categories

:

Applications

:

Immersion / Bucket Cleaning
Immersion / Bucket Cleaning
View Related Articles
Techspray offers cutting-edge technologies to improve your processes. Several formulas are available for applications ranging from electronics cleaning to heavy-duty industrial cleaning.


PWR-4: Cost effective, nonflammable, and low toxicity, so ideal replacement for n-propyl bromide (nPB) and other toxicindustrial solvents.
G3: Top-selling nonflammable solvent that's effective on the broadest array of soils.
Precision-V: Nonflammable replacement for AK225, and ideal for aviation, aerospace, medical and military applications.
E-LINE: Effective cleaner and safe on sensitive plastics.
Techspray Renew: Water-based flux removers with zero GWP and low VOC.

For immersion cleaning, safety is our top priority:


Flammability: Choosing a nonflammable cleaner is generally the safest choice. Otherwise, ventilation has to be explosion-proof and adequate to remove all the flammable fumes so they don't accumulate and create a significant hazard. It is also common to clean in a heated bath for extra solvency, which makes the use of a nonflammable cleaner all the more critical. Techspray offers three brand names of nonflammable solvents: G3, PWR-4, and Precision-V.
Toxicity: Techspray offers innovative solvents that are much safer than the four most common industrial solvents: TCE, nPB, Perc and Methylene Chloride and quickly clean the most difficult greases and fluxes. No Techspray cleaners contain these highly toxic solvents, and PWR-4 is specifically engineered as a replacement.
High quality brushes, swabs, and wipes are also available in different materials, shapes, and sizes for additional agitation.
Filter by attributes
Soil Type / Application
Solvent Compatibility
Plastic Sensitivity
(Choose One)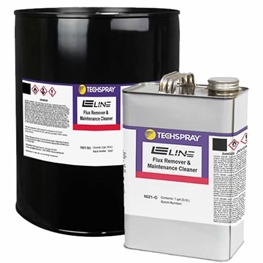 E-Line Flux Remover & Maintenance Cleaner
Powerful & economical liquid cleaner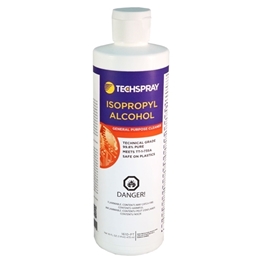 Technical Grade Isopropyl Alcohol (IPA)
99+% pure isopropyl alcohol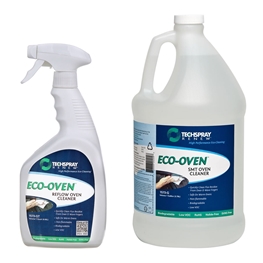 Eco-Oven Cleaner
Cleans reflow ovens, wave soldering systems, and associated heat exchanger systems by removing all types of flux residues - Quickly clean flux residue from oven & wave fingers
Eco-Stencil UM
Manual & Under Stencil Cleaner - Effectively removes all types of solder paste (e.g. water­based, RMA, no­clean, lead­free) and uncured adhesive from screens, misprinted boards and equipment. Compatible with Batch ultrasonic cleaning systems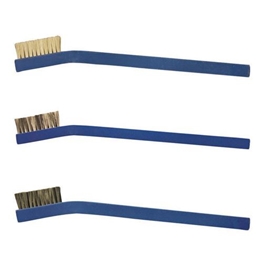 Tech Brush - Aluminum Handle
Groundable metal handle with ultra-secure bristles
Tech Brush - Detail
High precision brushes for cleaning and coating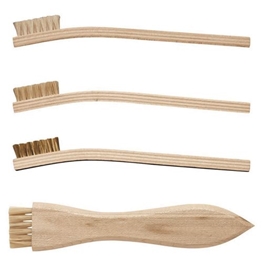 Tech Brush - Wood Handle
Strong plywood hands with ultra-secure bristles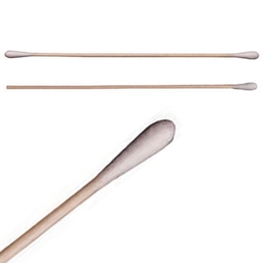 Cotton Swab
Economical, high absorbency cotton swab. Tightly wrapped, pre­cleaned cotton ensures the least amount of extractable contaminants.
Double-Tip Pointed Cotton Stick
High-precision pointed cotton swab - Tightly wrapped, pre­cleaned cotton ensures the least amount of extractable contaminants. Pointed tip and rigid head provide precision, but aggressive cleaning.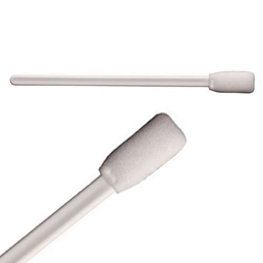 Super-Tip Foam Swab
Large 1/2" wide rigid foam head 2306 swab is Techspray's most popular foam swab. Good for general purpose coating and cleaning.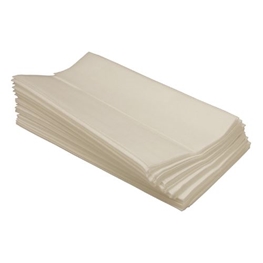 Techclean Wiper
Class 100 high-absorbency poly/cellulose wipe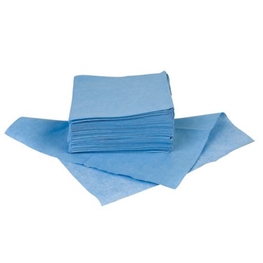 Techclean Blue Maintenance Wipe
High-absorbency poly/cellulose wipes
---
FAQ's
Articles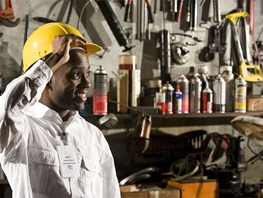 Replacing n-Propyl Bromide: What You DON'T Know CAN Hurt You
Welcome to our webinar, our Techspray webinar is replacing n-propyl bromide, which you don't know can hurt you. We're going to be going over issues with n-propyl bromide, and how to identify and qualify replacement as efficiently as possible. You guys aren't chemical experts, at least I assume you'r...
Read This Post