As an electronic manufacturing services (EMS) supplier, you are required to think on your feet and are forced to gain new capabilities as your customers' specification change. This can be daunting, especially when you try to bring conformal coating manufacturing in-house and make material and equipment decisions.

At its most basic definition, a conformal coating is like shellac for printed circuit boards (PCBs). It protects the functioning of the equipment from current leakage from contamination like moisture, chemicals, thermal swings, electrostatic discharge, etc. Keep in mind, saying conformal coating is "like shellac" should not be misconstrued as it being the same as shellac intended for woodworking.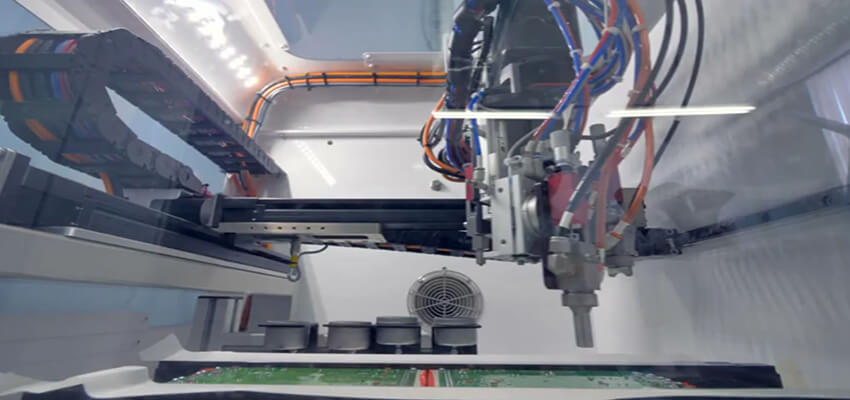 Properly protecting PCBs from contamination, all the while not harming the electronics, takes specialized materials that should be qualified according to industry standards and requirements of your particular application. This is especially important in critical electronics, like for aerospace, and automotive applications. That's where Military, IPC and UL standards come in!
There are many industries or manufacturer-specific standards available, but two universal standards widely used in most of the conformal coatings are IPC-CC-830 B and MIL-I-46058C. They are very closely related to each other and include a range of properties, to test how well a conformal coating performance overall.
All of these tests require flat coupons to be coated with the conformal coating in question and are subjected to a variety of temperature and humidity conditions to assess the material's properties. In addition to these standards, coatings may be recognized by Underwriters Laboratories UL.
These standards should be used as guidance only and the coating choice and tests should be made based on the specific application requirements:
MIL: The US Department of Defense DoD issued procurement specifications nearly a century ago relating to Conformal Coatings which is defined as Military spec or Military Insulating Compound MIL. This has been a common standard used throughout the industry for conformal coating materials. While it has been inactive for new designs since 1998, it is still a standard often required by military contractors. The main advantage of MIL-I-46058C is that it requires independent testing by a MIL approved laboratory and the military maintains a Qualified Product List (QPL) drawn from successful independent test reports.
IPC: IPC was founded in 1957 as the Institute for Printed Circuits. As more electronics assembly companies became involved with the association, the name was changed to the Institute for Interconnecting and Packaging Electronic Circuits, and finally abbreviated to IPC. IPC represents all facets of the industry, including design, printed circuit board manufacturing, and electronics assembly. Most commonly used subset of IPC is IPC-CC-830B for conformal coatings. IPC-CC-830 B is closely related to MIL-I-46058C and was introduced to provide an alternative to the MIL spec when it was declared inactive. This is an active specification and is continually being updated. Currently, this is on Revision B and Revision C will be launching soon. There is no requirement to use an independent test laboratory, and there is no QPL maintained for this specification. Materials qualified to MIL-I-46058C are automatically deemed to meet the requirements of IPC-CC-830B.
UL: Underwriters Laboratories® is an independent product safety certification organization that has been testing products and writing standards for safety since 1894. First International office opens in London in 1916. UL standards are specific to a property for example adhesion or flammability.UL is becoming more widespread. UL94 relates to the flammability or self-extinguishing nature of the conformal coating on an FR4 substrate. UL746E is composed of a series of dielectric breakdown evaluations in addition to the UL94 flammability testing and is intended to denote products that can be safely used on products that are required to meet UL safety standards. UL is a Qualified Products List (QPL) maintained.
As you select and evaluate new conformal coating materials, look for these standards in the specifications. Techspray has a conformal coating selection guide listing these standards.
Specialized coatings may have a reason not to be fully compliant, but coatings should be testing as much of one of the testing standards as possible to provide a qualification benchmark. For example, Fine-L-Kote LED (part #2125) cannot meet the UV luminance requirement to pass the MIL and IPC testing standards, but it passes all other criteria.
Fine-L-Kote SR (#2102) is fully compliant with MIL and IPC testing, in additional to being certified under UL746E.
For more information, go to conformal-coating or The Essential Guide to Conformal Coating". For technical help, just contact us and we'll get you the answers you need.